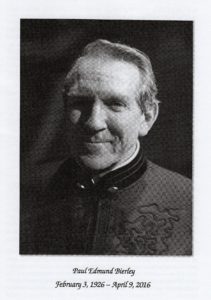 7 May 2016 Columbus, OH
Today we celebrated the long and productive life of Paul E. Bierley, 3 February 1926 to 9 April 2016.
A large number of his friends, fellow band researchers, and family were in attendance.  The service was held at Northwest Christian Church at 2:00 PM.  The service began with "Meditation on a Theme by Percy Grainger," arrainged by John Bierley.  Musicians: Amy Baker and Dave Eaton, cornet, Scott Strom, horn, Earle Louder, euphonium, Gary Tirey, tuba, Albert Adcock, organ, and Tim Jameson, conductor.  Paul selected the hymns and other music for the service. There were readings, Katherine Borst-Jones performed two flute solos with piano, and Paul's son John spoke of his father's life.  After the service the Ohio Capital Winds, Catherine Hope-Cunningham, director, with guest euphonium-Laura Lineberger, performed Sousa and Fillmore pieces conducted by Paul's friends: Keith Brion, Earle Louder, and John Bierley concluded the service with "The Stars and Stripes Forever."
Band research friends of Paul's who were at the service were: Andrew Glover, C. L. Barnhouse Co., Master Sgt. Amanda Simmons, The United States Marine Band, and Dianna Eiland, Society for American Music.
Please send memorial contributions to the Paul Bierley Sousa Research Fund at the University of Illinois Foundation, 1305 W. Green St., MC 386, Urbana, IL 61801.
Please visit us at facebook.com/americanbandresearch for photos and videos of the service.