An Interview with David Rosen
By David Carter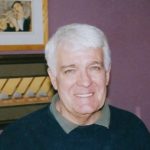 David Rosen has been a long-standing nexus of the central Arkansas Music scene. Son of professional Drummer and band leader, Marty Rosen, David started his musical education in school bands in Little Rock. He is a graduate of Henderson State in Arkadelphia, and served eight years as a fighter pilot in the United States Air Force. After his military service, he entered his father's music business, Rosen Music. His musical career spans the range of businessman, musical contractor, bandleader, professional trumpet player, and private teacher.
David Rosen and I meet in his office to reminisce about his long and varied musical career.1
Carter: "Why don't you tell us how you got started in music."
Rosen: "I Started cornet in the 5th grade. The Little Rock bands were really good then. There were three junior highs and one high school. The high school was just called Little Rock High School, later after Hall High School was built it was called Central High School. Each junior high band director also toured the feeder (elementary) schools, four or five each, and taught beginning band."
"Everybody started on cornet. (i.e. no trumpets in beginning band) This was in 1952-53. In High School, maybe you would get a trumpet, not because of any request to have a trumpet. It was more like I gotta' have a trumpet now. The cornet has easier response, the scales are always good. The Conn Director, Bundy, Olds Ambassador, Holton Collegiate, all American companies. I started on a 10 1/2 C mouthpiece."
Rosen: "When I was ten years old, my dad had Vincent Bach down here in Little Rock. I got to visit with him, he was a marvelous man. A little on the short side, perfect embouchure. He demonstrated things. He practiced some scales, taking the horn away from the mouth between each note."
Carter: "Was that to force you to set your embouchure?"
Rosen: "Set it and keep it."
Carter: "Anything else?"
Rosen: "Practice."
Carter: "The 'P' word!"
Rosen: "The dreaded 'P' word. Simple stuff.  He did the horn on a string and played high C. He was a great player."
(The horn on a string means to suspend the cornet or trumpet by a string, and with only the lips touching the mouthpiece play the open notes on the trumpet. If you attempt to use any pressure to play, you just push the trumpet out of the way!)
Carter: "Currently we are seeing a deluge of inexpensive foreign made instruments, from China and India. Was there anything like that back then?"
Rosen: "No, Sears & Roebucks, Montgomery Ward's bought seconds from the major manufacturers and branded them under their own labels, like "Silvertone". Bear in mind a beginning cornet was $59.95. Seventy-five dollars a week was a good salary for an adult. So, everything is relative, but you could pick up a Sears "Silvertone" and it was much like a Conn or King."
"Woodwinds came from Europe. Buffet clarinet second lines were called Laraux. Some fine players have said these old instruments played just as good as my R-13." (Current top of the line Buffet.)
Carter: "Did you go to Central High School? "
Rosen: "I went one year. I was sort of the vagabond. We moved here my first school was Forrest Park Elementary, then Thomas Jefferson Elementary. You went to the school you were near. (Unlike Little Rock today which has extensive busing for desegregation) Junior High was grades seven, eight, and nine. I went to Pulaski Heights Junior High for two years. Then they opened up Forrest Heights Junior High and I went there my last year."
"I went to Little Rock High, (later called Central) then they opened up Hall and I went to Hall my junior year. They closed all the High Schools next year."
Carter: "When you were going to Hall, was the band room the same as the one the brass band rehearsed in?"
Rosen: "Same old thing. Pretty good band. The band director was Menell Boyce. The band director at Central was Al Lapt, one of the best conductors at that time. The band read mountains of literature. You auditioned for a part in football season. We didn't march-we marched down the field and played in the stands. We had one big show for Thanksgiving. We had to re-audition the Monday after Thanksgiving."
Carter: "And you were sure to practice over the Thanksgiving break!"
Rosen: "If you wanted to be in the good band. It was an ideal instrumentation. Eight cornets, four trumpets, four French horns, four tubas, full woodwind including contralto and contrabass (clarinet) in 1956!"
Carter: "Did you go to contests?"
Rosen: "There wasn't a contest. We had sectional rehearsal three days a week. Tuesday and Thursday was the trumpet sectional and Wednesday was the brass challenge day. People moved in and out of the tower band (the first band rehearsed in a room up in the towering Gothic superstructure of Central High, the second band meet in a room downstairs). You didn't scuffle along. You played your part or you went downstairs."
Carter: "So the two bands were scheduled at the same time.? If you were challenged and knocked out from the top band, you walked across the hall…"
Rosen: "Downstairs"
Carter: "and everybody knew."
Rosen: "Al Lapt was the band director in the tower and Ken Ritchie was the assistant band director. Three memorable conductors. Al Lapt, Joe Klein, a pit conductor who taught at Tanglewood for a while, and James Nielson-he was volatile."
"You learned to play your instrument, you learned to read music. For example, Don Gillis brought his composition, "Tulsa" over for use to read."
Carter: "That's the same Don Gillis from Fort Worth, Texas?"
Rosen: "That's correct, he and Al Lapt were friends."
Carter: "You know that Gillis wrote the bass trombone book still used for all-state auditions in Arkansas."
Rosen: "I didn't know that."
"That speaks to the quality of the bands here. Each year we had a festival. The beginning bands-the slugget bands-they start the song and they slug it out to the bitter end. The second year beginning bands, and the city select beginning band, then each of the junior high bands did three or four songs, the all city junior high band, and then the high school did three or four songs. The Festival was at Central High's Auditorium. Run 'em in and run 'em out in two to two and a half hours."
Carter: "Did you do any band trips, any fundraisers?"
Rosen: "The Band Parent's Club took care of all that. The school district would buy the basic instruments, stands, and music. Anything beyond that the Band Parent's Club raised money for."
Carter: "You didn't take any trips?"
Rosen: "You didn't travel that readily, this was in the '50s. I take that back. We went to Springfield, Missouri. It was an exchange concert."
Carter: "No Disneyworld kind of trips?"
Rosen: "No, those places weren't even on the map. You just didn't have the ability to travel."
Carter: "When you went to Springfield, did you ride the big yellow buses?"
Rosen: "We didn't have yellow buses. We got ourselves to school and home. (For the trip to Springfield.) We chartered a streamliner bus. It was a long trip to Springfield and back."
Carter: "In many schools, if someone is into band, the other students call them, 'band nerds.' Socially how was the band in the high school climate of the time?"
Rosen: "It was fine, everybody liked everybody."
(In 1954, the historic Supreme Court decision Brown vs. the Board of Education lead to the desegregation of public schools across the United States.  The Little Rock School Board attempted to comply with the ruling in 1957, but local opposition was strong. Eventually, President Eisenhower sent in the 101 Airborne Division to help enforce the order and to control disturbances. The situation remained volatile, so the school district closed Central and Hall High Schools for the 1958-59 school year. They reopened in the fall of 1959.)
Carter: "Earlier you touched on the desegregation crises, and that they shut the schools down. What were your experiences during that time?"
Rosen: "I never saw any to the stuff that's been written about. I later meet some of the guys of the 101st Airborne that were shipped down here. They were bivouacking on the (Central) high school campus football practice field. They didn't have any confrontation. Most of the demonstrations were staged. But I don't know that firsthand."
Carter: "You were going to Hall High School at the time."
Rosen: "Yes."
Carter: "They shut all of the schools down?"
Rosen: "Just the high schools. The football team was still practicing and went to games. The bands didn't do anything-the school's out."
Carter: "It's kind of ironic, schools cancelled but not the football team! Did you stay at home, like an extended summer vacation?"
Rosen: "No-Everyone went somewhere, they didn't just sit around. I went to Jacksonville (High School). I graduated from Jacksonville High School, my last year was 1958-59. The county schools (Pulaski County School District and North Little Rock School District) absorbed a lot of the students. A lot of private schools were started."
Carter: "When you were in high school, is that when you started getting interested in playing the trumpet professionally?"
Rosen: "I never felt an interest in playing professionally. I was a kid. Ya' go to school, try to study. You played the trumpet because it was fun."
"I went to Colorado my first year of college. My dad sat me down and said, 'Son, you've had four years of fun, it's time to go to school.' I went to Henderson State Teachers College in Arkadelphia. Wendell Evanston was the band director there. He was a good band teacher, and they had a great stage band."
Carter: "Were you a music major?"
Rosen: "Yeah, I ended up with a dual major with psychology as well. I student taught, and to me teaching band was a lot like holding a hot rivet (in your hand) with no glove on. It didn't take you long to know that's what you didn't want to do! I enjoyed private teaching."
Carter: "What were the college bands like in those years?"
Rosen: "They were good. Arkansas Tech (in Russellville) was outstanding. Gene Witherspoon was there. Henderson was interesting. (The marching band had) almost a perfect jazz band instrumentation. This is a thirty-three-man band with six majorettes. In order to extend from sideline to sideline, thirty-nine were needed, we just barely reached. (We had) four trumpets, four trombones, four tubas, and clarinets and saxes. We thought we were pretty good!"
Carter: "Did you do formations or military style marching?"
Rosen: "We did Michigan style. Wendell Evanston had done his master in Michigan. Eight to Five and all that stuff."
"The jazz band was real good and toured each summer. My first year, 1961, we toured the far east for the USO. We left at the end of school for about six weeks. We flew on a DC-7, four propeller engines. We flew to San Francisco, flew to Honolulu for gas, twelve hours it took to get to Hawaii."
Carter: "Did you have any ladies in the jazz band?"
Rosen: "Oh yeah, we had a dancer and a singer. Those were some intense experiences we had in Korea."
"We were playing a show on the DMZ (Demilitarized Zone, the border area between North and South Korea) and on the way over there they said that's the 'Freedom Bridge.' If something happens you get on the bus and get outa' here, because we're blowing the bridge."
"We were playing along doing a show and all of a sudden the alarms go off. They run us out. Later we learned that the North Koreans and the South Koreans were pecking at each other."
Carter: "Can you remember what year that was?"
Rosen: "1960. We rode a coal burning train, from Seoul to Pusan to do a couple of shows. The train had no ventilation other than the windows and when the conductor (of the train) comes down and says 'tunnel' he means it! So, raise the windows quick because if you don't with a coal burner you're gonna fill that whole train up with coal soot! At that time, South Korea was just getting back from the war. That's a monumental success story now."
"The tour took us to Formosa and Taiwan. No, we were cancelled in Taiwan because of the threats to Quemoy and Matsu. (Quemoy and Matsu were islands of the coast of China held by nationalist Chinese forces, but claimed by the communist Chinese.) We flew back to Japan and did shows in two or three U.S. military bases. Okinawa, then we island hopped to Wake, Guam, and Iwo Jima. Then Subic Bay in the Philippines and back to Hawaii."
Carter: "Was everyone well behaved?"
Rosen: "Pretty well. We had our moments in Korea. We were all taken under the wings of officers, and taken to the officer clubs. We were all under age. We learned to drink on that one."
"One morning we were at Kampo Air Force Base out of Seoul. We were staying in BOQs (bachelor officer quarters). We had a pretty good night out and we woke up the next morning to .50 caliber machine gun fire! Those of us who were sort of asleep sat straight up and looked out the window. As it turned out our billet was just above the sighting range and they had the F-86s (jet fighter) and they were sighting in the guns!"
Carter: "Anything else memorable about the music program in College?"
Rosen: "We went to the Notre Dame Jazz Festival two or three times. The first year we made the finals. We were with Michigan State and North Texas State. Stan Kenton, Quincy Jones, and Henry Mancini were the judges. We didn't have a recording until one of our more resourceful members got in touch with Notre Dame's archives, and they still had the recording there."
Carter: "At Henderson you had a jazz band, did you have a jazz studies program?"
Rosen: "No, there was nothing like that."
Carter: "Did you have a wind ensemble?"
Rosen: "No, the marching band sat down and became a concert band."
Carter: "What kind of literature did you play?"
Rosen: "Mostly transcriptions of orchestral pieces, some marches and band pieces, not as it is today."
Carter: "You student taught but decided not to teach…"
Rosen: "All this time I was playing trumpet at the Vapors Club in Hot Springs. It was a casino, theater and lounge. I was lucky enough to get a seat on that band. A theater band with five brass and four reeds. Each night we would open with a show at eight. The 10 minutes of dance music, no more, because if the people were dancing they weren't gambling, eating or drinking. Another show at eleven."
"The shows were the best. Vic Damone, Frankie Lane, Patti Page, Juliet Prowse, Rosemary Clooney, Tony Bennett, Kylie Smith. Rosemary and Kylie were two of the best vocalists and the nicest people I've meet. They were taking in new material and arrangements to take to Vegas."
"We finished school and several of us decided to go to Reno to play. We didn't go to Vegas because you couldn't have a steady job in Vegas until you have been there for six months on your union card. We had worked in Tahoe, I was getting trepidation's about moving to Vegas. I had been around very good players, but they were grumpy. Guys in their 50s and 60s, great players, but they always had this attitude that they were trapped, they couldn't ever do anything else. I didn't want to do that."
Carter: "Sounds a lot like 50-year-old teachers…"
Rosen: "Yes, I started felling anxious, so I didn't go to Vegas. (The other guys) went to Vegas and did well. I came back home about the time of the Cuban missile crises."
Carter: "When you were in Hot Springs, how many places had working bands?"
Rosen: "Vapors, the Southern Club, then duos and trios. This was all year long. Art Porter worked down here. He drove back and forth every night. He was teaching choir at Horace Mann and he'd drive to the Black Orchid to play until 1:00 AM and drive home six nights a week. Sometimes the Arlington Hotel would have a group."
"Summers the heavy hitters from the Midwest would go to Hot Springs, put their families up at the lake, come in and gamble, for drinks and a show. It was a pretty hot place."
"Rockefeller became governor and he wanted to legalize gambling to generate revenue. So, he put it on the ballot, as a local option. Each county could decide if they wanted it. But what happened each time it come up for a vote, literally millions of dollars would pour in from Vegas to defeat it. That was competition they did not want. The trepidation on their part about Hot Springs becoming what it could have become, the center of the country. You consider a 500-mile radius and the number of people. You'd bring in Chicago, Cleveland, Cincinnati, Louisville, Atlanta, New Orleans."
(Hot Springs was host to open but illegal gambling establishments from after the Civil War until 1967 when Governor Rockefeller finally closed them down. The resultant loss of revenue drastically affected the city's economy, and also resulted in the loss of many jobs for musicians.)
Carter: "After playing Tahoe and Reno you came back to Arkansas…"
Rosen: "I was wondering what I was going to do. The draft was still going, so maybe I'll join the air force, and I did. I didn't play for the next eight years, to any extant."
(David Rosen served as a pilot in the U.S. Air Force from 1964 to 1972. He flew 100 missions over North Vietnam in RF-101 Voodoos and RF-4 Phantom reconnaissance fighters.  I once asked him why he got out of the Air Force, and he replied, "They were shooting at me!")
Rosen: "I came back to Little Rock. Didn't know what I was going to do. I hung out with my dad and my dad's business and here I am today."
Carter: "Tell us about your dad, and his business."
Rosen: "My dad (Marty Rosen) was a professional musician. He was born in Chicago and raised in Pueblo Colorado. He was one of five brothers, the oldest, and with the great depression, he was always leaned on to help support the others. And in the depression the only way you could do that was to go and find work. He left home when he was sixteen, he played drums and he toured with a number of bands."
"At that time, bands were moving all over the place. There were territory bands. Dallas, Kansas City, St. Louis, you made that cycle. He'd tell stories. You'd drive into Nebraska, were you could see from one end of the world to the other. You'd drive and see a little dot in the distance, and it would grow and it would turn out to be a big barn or building, and that's where you were gonna play!"
"There was nothing (else) there. They'd set up and get ready. No one was there at 7:00. 7:15 and you'd start seeing dust clouds from all compass points. These cars are coming to the dance, and by 8:00 the place was full."
"McCool, Nebraska, they had a 'pitch 'till you win', all you can eat for a quarter restaurant. Back then a quarter was a lot of money, so they'd wait a day or two to eat 'till they got there and load up."
Carter: "The musician's life"
Rosen: "Everybody's life, you scrapped, you scratched. He (Marty Rosen) went into the army in World War Two."
Carter: "Did he play drums in the army?"
Rosen: "He had a trio in Washington, 'Sergeants Trio'. (After the war) he came back and settled here,(Little Rock). When I was five, dad took a band down to the Opelousas, Louisiana Country Club. It was a great deal because we lived on the golf course. My buddies were the caddy's sons, we played in the sand traps!"
"Huey Long was Governor. There were slot machines on the street corners."
Carter: "I love that, park your car and gamble."
Rosen: "Stop at a red light and gamble."
"I was getting old enough for school so mom said came back here (Little Rock) and settle down. Dad worked two or three jobs, he was playing all the time. He went into the insurance business and did well."
"Then he went into the music business. I know what it was. Gill Colianni set up his brother, Art Colianni, and (my) dad in a music store. In a year, my father out worked Art to the point where he just absorbed all the assets and it became Rosen Music in 1955. I came in, in 1972."
"He contracted shows-Barton Coliseum, Robinson Auditorium, the State Fair, Ice Capades, Ringling Brothers Circus, Sony and Cher, that one got the band a great review! Pat Boone, the annual Horse Show. He would provide backup musicians for whatever star they contracted. The touring Broadway Shows. The first pit call I had was 1962 or 1963. I was 'Hello Dolly' with Carol Channing. I got back (from the Air Force) and he worked me in at the bottom of the section."
"Dad died in 1984. (The music business) has gone through changes. They don't use our kind of music anymore. The Broadway shows are self-contained, some still have some call. We have a big band that was the outgrowth of that. It's more of an avocation. As you know, David, you don't make money trying to play a horn. A big band is a labor of love. You play, and play, for fifty dollars. From what I've learned, it's that way all across the country. But it's fun. It's the ultimate medium a large ensemble with solo space. There's a lot more literature than there used to be, than the old stock dance arrangements."
Carter: "What are some of the memorable things the big band has done?"
Rosen: "For 15 years we did Pops on the River. (We did a lot of) different shows, backed James Brown, Isaac Hays. There was a string call for that. The string players show up and they're warming up and then the show, shows up and they have these electric fiddles. The violin players were sort of taken aback. But they relented, put their own violins away, got the electric fiddles out. Then started playing them and fell in love, they had a ball playing them. We played all the Isaac Hays 'Shaft' stuff and it was a lot of fun."
"I first did the Ringling Brothers Circus while I was still in college. Merle Evans was conducting. With the circus, you did an hour and twenty-five minutes, ten minutes off, and another hour and twenty-five minutes-three hours total."
"Merle Evans told stories. They had a five-man band when the circus came to town. Everyone pitched in on everything, help raise the tents. Then they'd parade the band, trying to generate a crowd."
Carter: "That's where the term, 'jump on the bandwagon comes from.' Was that a self-contained group?"
Rosen: "No, the players were hired locally, my dad contracted them. Evans regaled us with the story of the 'Sunset Embouchure.' It was all about how long they played each day. Parade, parade, show, show, all day long. It was hard. We started (to play with the mouthpiece on the lips) on the left side (of the mouth). Worked our way across the face, until by the end of the night we were playing on the right side (of the mouth)."
Carter: "I've played the circus and I've had to do that. I got to where for routine section work, I played on one side or the other. When the trombone part had the melody, then I'd put the mouthpiece in the center!"
Rosen: "You had to find a way"
Carter: "You were one of the founding members of a brass band called Solid Brass."
Rosen: "I was a Buffet dealer, Boosey & Hawked, Besson. They had a program. Ed Carroll was the co-founder. He had been the West Point Army Band, euphonium and conductor. A good man and musician. He came to me. They needed a store to underwrite it (the brass band). Besson sent the instruments and we slowly paid for them. The name 'Solid Brass' was not my ideas. It was Frida Carroll's, Ed's wife."
"Ed was the first conductor and co-founder, really. At that time Besson (was) starting programs in the U.S. They started one here, one in Tulsa. It was a traditional British brass band. On the one hand it was a brass band, and on the other hand it was more of a town band (like those) that existed in this country around the turn of the century. Last century, 1890-1910, every town had a band of some sort. My vision was for it to be a summer activity, with local symphony guys and other outstanding players having an outlet with a summer concert series."
"At one time in Little Rock, in McArthur Park, there was an old band shell. They always had summer band concerts. This was in the 1920-1930s"
Carter: "How long did that go on?"
Rosen: "That went on until they tore it (the band shell) down in 1960 0r '61. The band shell had stage lights, dressing rooms, it was a real performance venue. There was always a town band, the Little Rock Band. The musician's union underwrote part of it. All the union guys got twenty dollars a concert. Sunday, you rehearsed at noon, and played at seven at night."
Carter: "Were there adult amateurs who played?"
Rosen: "Certainly, and students too. It was a good band. Scrubby Watson from Pine Bluff conducted it. Then Al Lapt, and Raymond Brandon. They had about six band concerts and four jazz concerts. I envisioned the brass band to set off a summer concert series."
Carter: "What are some of the places the brass band played?"
Rosen: "We rehearsed at Hall High School. We later rehearsed at the Arkansas School for the Blind. We played at the State Capitol. We played for the Christmas tree lighting at the State Capitol for five years. It was cold."
Carter: "Yes, I remember it as five years, because for five in a row, I played the "Frosty" solo."
Rosen: "You got good at it too! We did a few concerts at Wildwood."
Carter: "I liked the concerts we did on the grounds of the Old State House. We got a lot of walk by traffic there. They'd hear us play, and just walk in and listen!"
Rosen: "I was trying to replicate the old summer band concerts. Everything is different now. I guess I was a dinosaur in terms of what I thought could be done."
Carter: "The brass band eventually changed and went to a NABBA format." (After a decade members of the group voted to become a member of the National Association of Brass Bands of America, and to emphasize NABBA competitions more than summer outdoor concerts)
Rosen: "That's what other people wanted, I never cared for that."
Carter: "You didn't feel the need to go to competition?"
Rosen: "No, I just had a different concept. More entertainment oriented."
Carter: "At this point you're considering retirement, so have you any thoughts about the future of the music business, the big band, and so on…"
Rosen: "At this point that's imponderable for me. I'm lucky. I can't imagine not doing stuff. There are days when I don' feel like it. I'm seventy-five years old now. So, it's a little more difficult to get up and make sure I'm vertical. I'm lucky I have really good genes. As far as the store is concerned, there are aspects that are really interesting."
"I teach privately. There's nothing more enjoyable than to see a new trumpet player and see that what I'm telling him begins to make sense and work. When he does something right you can see him light up! That's kind of fun. It's gratifying that he's worked sufficiently to reach that point. They hit a wall again and there's this frustration, as anyone who's learned an instrument knows. You bang your head against a wall until you get up on the next level, and you go up."
Carter: "The learning curve isn't smooth, it resembles a series of steps."
Rosen: "And each level is progressively more difficult. It's very athletic. You're teaching all of these muscles to work in a reflexive way. When kids seem to grasp that concept, they forget about it being hard and start working at it. For some reason that makes it OK to practice."
The End
David Rosen, interview by author, Little Rock, AK, March 22, 2017
This article is the property of and copyrighted by "The Newsletter of American Band History Research."  Please contact us for the use of the content of the article/interview. Thank you.