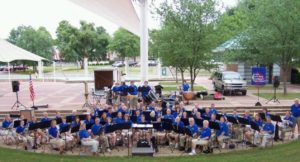 RICO BELOTTI AND THE NORTH LITTLE ROCK COMMUNITY BAND
By David Carter
The North Little Rock Community Band:
The North Little Rock Community Band was founded in 1982 through the co-operative effort of its founding conductor, Arkansas band legend J. Raymond Brandon, and Mayor of North Little Rock, Reed Thompson. The band initially had just twenty-five musicians.
Mr. Brandon conducted the North Little Rock Community Band for the first seven seasons, and in appreciation for his contributions, was named Conductor Emeritus when he retired in August 1989. Since that time the band has performed under the baton of Director Rico Belotti.
The Band presents three indoor and three outdoor concerts each season, as well as performances at other special civic events. The Band is a volunteer support group of the "Susan B. Koman Race for the Cure" and performs each year along the race route. They are a member of the Association of Concert Bands (ACB) and have performed at the ACB National Convention, and have performed at the Arkansas Bandmasters Association Convention. The Band is also a sustaining member of the Arkansas School Band and Orchestra Association.
Rico Belotti:
Rico Belotti became Music Director of the North Little Rock Community Band in 1989 succeeding the band's founding director and conductor J. Raymond Brandon.
Mr. Belotti graduated from Arkansas Technical University in 1973. He was then band director for the Marion Arkansas Public Schools for fourteen years. In 1987 he became director of bands at Jacksonville High School where he remained for eighteen years, retiring in June of 2005.
Mr. Belotti is a past president of the Arkansas Bandmasters Association, and is active as a contest adjudicator and studio teacher. Mr. Belotti is a member of Phi Beta Mu International Bandmasters Fraternity, a Life Member of Kappa Kappa Psi, and he was awarded Honorary Membership in the Arkansas School Band and Orchestra Association in 2005.
In addition to his teaching career, Mr. Belotti's musical contributions are diverse.  He is the Associate Music Director of the Natural State Brass Band, a British style brass band he helped to found and in which he plays E flat bass. He has served on the board of the North American Brass Band Association (NABBA) and presently serves as one of the NABBA contest controllers. Mr. Belotti is also an active composer and arranger with works performed by wind band, brass band and choirs in Central Arkansas. Mr. Belotti sings in the choir of Christ Episcopal Church, where he also directs the adult hand bell choir and is active in the lay ministry. He also sings with the Compline Choir, a semiprofessional a cappella vocal ensemble at Christ Church.
He is married to Ginny Belotti who is also a retired Arkansas public school teacher. They have one daughter, Leah Belotti Carnahan, who resides with her husband Flint and their two sons in Fort Worth, Texas.
An Interview with Rico Belotti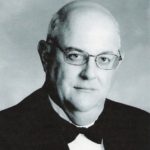 Carter: "Did you come from a musical family?"
Belotti: "I did not. My mother sang in church when I was a kid. (She) was not a trained musician, my dad was not musical at all. My mom and dad started me (on) piano lessons when I was in the second grade. I was lucky enough to have a piano teacher who, not only stressed playing, but also (music) theory. I understood intervals and chords."
(One Day) "a fantastic gentleman, Robert Fletcher, came to our elementary school to recruit for band, and started a hoard of flutophone players, and then I chose to play the cornet. Last year, going through records, I found the bill of sale for when my father bought my first cornet. It was a Bundy. Brand new Bundy Cornets in those days were $150, and that was like gold!"
Carter: "What year was that?"
Belotti: "I was in the 4th grade, let's see, 1962."
Belotti: "I was in the last class in the Little Rock Public Schools that started band in the 4th grade. The next year they started (band) in the 5th grade and the next year in the 6th.  I got a head start. By the time I was in junior high I was playing literature that high school students play now, or don't even get to play. I played cornet when I started, and switched to baritone in the 7th grade. I had horrible crooked teeth, that's one of the hooks the band director used to recruit baritone players."
Carter: "Ha, it's not how you play but how your mouth looks!"
Belotti: "Players who were having range problems were offered baritone in the 7th grade. I got to be in the 1st band in junior high just by playing baritone because there weren't any baritone players. I played baritone in junior high through the 1st year of high school. In my sophomore year, I realized that our only strong tuba player was graduating, so I went to the band director and said, 'We're not going to have a good tuba player next year.' He said, 'You want to take care of that?' I said, 'Yeah!', so I switched over (and) was an All-State tuba player my last two years."
"I went to (college at) Arkansas Tech, played for (tuba teacher) Andy Anders, and (band director) Gene Witherspoon."
"I taught in eastern Arkansas in Marian for 14 years, in Jacksonville for eighteen years, and retired in 2005."
"In my time in Marion, being such a small town, I was a volunteer fire fighter (and) ended by being chief of the fire department. Was an emergency medical technician, and was also a law enforcement officer for 11-12 years."
Carter: "What did you do in law enforcement?"
Belotti: "I started out as a reserve sheriff deputy, and moved over to being a part time police officer. I was certified by the state, I could work up to twenty hours a week. There were five of us that were hired. The town didn't have enough money to fully fund a full police department."
"I played in the original Solid Brass. Came into that about the second year they had it. I'm one of the founding members of the Natural State Brass Band, and have played with them since its inception. I do a lot of vocal work at church. I play golf when I get a chance and try to see my grandkids in Texas as much as possible."
"I have been the Director of the North Little Rock Community Band since 1989 that makes 28 years! I'm the only director other than J. Raymond Brandon that the Band's ever had. I'm proud of that."
"That Band (North Little Rock Community Band) got started in 1982. It was a reunion of an older group of North Little Rock band students that the Mayor, Reed Thompson, and J. Raymond Brandon got together. And that was the time that people in this part of the world were just finding out that there was any such thing still out there as community bands. Real honest community concert groups. The North Shore group, in Chicago, was becoming popular and Mr. Brandon understood that there were a lot of people here who would benefit from playing in a group like that. In those days when you got out of school in Arkansas, unless you were lucky enough to be one of the few who played with the Arkansas Symphony, there wasn't really anything to do, you couldn't play."
"Now, the musician's union had a summer band, and they did that so the union guys could make a little extra money. Pay your union dues, but there was no real community group."
"So, they started it (North Little Rock Community Band), and that was a top-level band when it started. Mr. Brandon's health started failing after just a few years, and the doctor told him he needed to get out of something. The band itself was not as good as it had been. A lot of people had moved away. So, he chose to give it up."
"I was on the board of directors, and I was in the band for two years. We had a board meeting, and he (Mr. Brandon) gave a list of ten names of possible successors, and my name was the last one on the list. I'm asked about this all the time. We started down through the list and it was like 'No, I don't have the time, No, I'm not interested,' because a lot of people knew the quality had dropped off. The first nine people all declined. So, they looked at me and I said 'I'll do it, I got into the band to play, but I'll do it on an interim basis until they find somebody.' Twenty-eight years later and I'm still doing it."
"Not long after that the band took another hit because there were some people in the band, and in Little Rock, who decided that they wanted to form something new. They had seen the Dallas Wind Symphony and they thought we needed something like that, and that's when the Little Rock Wind Symphony started. The Community Band was not of the level that many of them wanted to play. They wanted to play higher level music, and I don't blame them. We were having to play what we could play with who we drew in to play with. Many left the Community Band to play with the Wind Symphony."
"I'm proud of it. We went through some lean years. But now if everybody on the roll would show up, like you say in that kind of group, they don't. We're averaging playing concerts with from sixty-five to seventy players. If we had everybody show up we'd have almost ninety!"
"There's some really fine players, and there's some that (can) barely hold their horn. But, we're providing an outlet, and I'm really happy about that. The quality of the music has continuously gotten better. (For) these summer concerts we have two rehearsals and a concert, and I back off a little bit there."
"When I first took the band over Mr. Brandon was doing three concerts a year. It started with two concerts a year, because players came from all over to do it, and he really didn't have time to fit it into the School Band Association calendar."
"We do two indoor and three outdoor concerts a year. The two indoor concerts are down at the Patrick Henry Hays Center. (The Hays Center is a senior center that counts among its generous facilities an excellent ball and concert room.) It's a perfect spot. We can put 200-250 people in there for an audience, and it's packed out. I've found out that that's pretty average for the size of audiences for these kinds of groups. We do three outdoor concerts. Most of these since the early 1990s have been at Lakewood Village. There's a wonderful little Amphitheatre down there. We set down at the bottom, people sit up around the bowl and we play."
"On the years the Baseball team (The Arkansas Travelers, a minor league professional team.) is on the road, we usually play on the Fourth of July as Dicky-Stevens Baseball Park. Which is kind of a rush, because we'll start out with about a hundred people in the audience, and by the time we finish there will be four or five thousand, because they're waiting for the fireworks! It's really great for the band to get to play for that many people! We get really good reviews out of it."
Carter: "Do you get free admission to the game?"
Belotti: "We'll there's not a game, there's just the fireworks. But it's the best place in town to watch the fireworks."
Carter: "Is that the same fireworks that the Symphony Plays before?"
Belotti: "Yeah"
Carter: "So, while the orchestra is playing a concert on the Little Rock Side of the River."
Belotti: "We're on the North Little Rock side of the river playing for the people here. But like I said, the last time we did this was two years ago, because the Ball Club was in town last year, and it's in town again this year. If there's a ball game we don't play."
"We also have a group that will play for the "Race for a Cure" every year. We set up on the side of the street. It's like a circus band. We start playing when the first runner comes by, play a march and turn the page. Play another march and turn the page. We have a college fight song book, and we'll throw in some of those. We play an awful lot of Karl King that day."
"We usually end up with about thirty people who do that. It's fun, it's very rewarding. And we'll get one or two other calls that we will be able to do. We try not to get too heavy into supermarket openings and things like that. But next Thursday, we're going to take a little group and play where the Special Olympic Torch is coming through."
Carter: "Do you have an organized small group?"
Belotti: "No, it's whoever shows up. We've got those little march books, we open them up and read."
Carter: "You get enough to sound like a band and that's it."
Belotti: "They just want a little pep band, six to eight people. I think last year, I was out of town, one of the other guys ramrodded it. I think we had twelve or sixteen people show up, and they thought it was good!"
"But that's what we do. We've been fortunate to have backing from the city, financially, so that, other than chairs, we are a self-sufficient band, we own a complete percussion section. Four timpani, bass drum, xylophone, vibraphone, bells, all kinds of drums, (and) cymbals."
Carter: "Does the band own any harmony instruments? For example, if someone plays the tuba and wants to join the band."
Belotti: "Yes we own three tubas, three French horns, two bass clarinets, a contrabass clarinet and we own a couple of piccolos. We've got a library with over five hundred titles."
Carter: "You are about as well equipped as a modest but decent high school band."
Belotti: "The thing that's clicked in my mind is when I stop doing this band, whoever takes it over, is going to get a self-sufficient (band). They're going to have everything they need to play a concert. All they gotta do is have a place to play and players."
Carter: "Where do you rehearse?"
Belotti: "Currently we rehearse in the sixth-grade band room in North Little Rock. For several years before we outgrew it we rehearsed in Sherwood at Abundant Life (a private school). We had a wonderful working agreement. They gave me a key to the door, and said 'have fun.' We reciprocated by letting the band program (at Abundant Life) use some of our percussion equipment. They needed chimes for a concert, we took those to them, tom toms, vibraphone, whatever. We also co-op equipment, unofficially with the brass band. Some of the keyboard equipment the brass band uses belongs to the Community Band."
The End
Rico Belotti, interview by author, Little Rock, AR, May 18, 2017.
The North Little Rock Community Band can be found on the web at: http://www.nlrcommunityband.com/index.html.
The North Little Rock Community Band Facebook page includes additional information, pictures and videos. Please like them at: https://www.facebook.com/nlrccb/.
This article is the property of and copyrighted by "The Newsletter of American Band History Research."  Please contact us for the use of the content of the article/interview. Thank you.