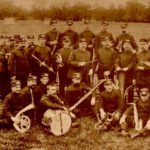 THE NEWSLETTER OF AMERICAN BAND HISTORY RESEARCH
The Newsletter of American Band History Research is going paperless.  We can now be found at www.americanbandhistory.org, www.facebook.com/americanbandresearch, and Twitter@ambandresearch.  Articles based on primary research will be considered first, but articles based on secondary sources will also be considered for publication.  
We also have a blog for your news, events, stories, audio, photos, and video related to band history in the United States.
Please send your submissions for the newsletter and the blog to: dianna@americanbandhistory.org.
Thank you and we look forward to receiving your contributions.
Dianna Eiland, Founding Editor